In Memory
of my
Precious Coco
My Sweet Companion for 15 Years
This website is dedicated to the Memory of my dearest friend Coco Dec. 17, 1990 to Jan. 27, 2006
My miniature Rainbow Bridge book
Can be dedicated to any yorkie you have loved and lost
This tiny little book will bring tears to your eye
And memories of your beloved yokie to your heart.

YORKIE FUN IS JUST AN ORDER AWAY!
MY NEEDLE FELTED SAMPLES ARE NOT INCLUDED IN ANY OF MY KITS
YOU TOO, CAN PRODUCE A SIMILAR YORKIE, LIKE THIS !
Yorkie Love is a kit away!
My new Miniature "Rainbow Bridge" book
I can dedicated to your loved yorkie on back of book with picture and name.
All items are individually price.
And please know if you see an item you would like, it will have to be made, as I have know back stock. Each item will usually take approx. two weeks. And you must know that no two copies are exactly alike.
Extremely Rare Yorkie Brooch
This beautiful brooch is made of Real Champion Sired Yorkie hair. And is living in Italy.
Same Rare Yorkie Brooch
Made of Genuine Champion Sired Yorkie Hair. This brooch is living in Italy.
Puppies in a Purse!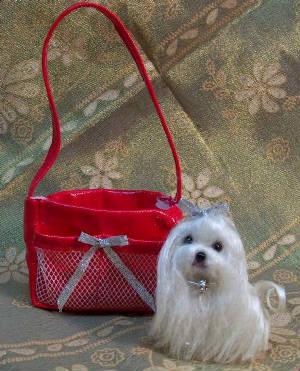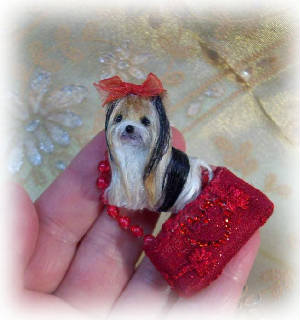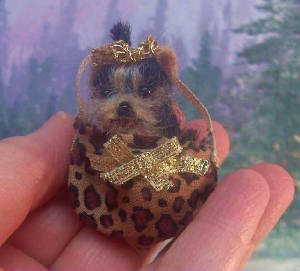 Yorkie Puppy Brooch
Made of SCHULTE MOHAIR and Embellished with a Genuine Diamond Stud
A Miniature Yorkie Christmas
This scene that I created was done in a goose egg that I cut and decorated.
A Yorkie Wedding
Yorkie Bride and her little Flower Puppies
Little Miss Chloe
On the road to a dog show!
A Thread Crochet Momma and puppy Yorkie
A Yorkie momma and her puppy
A puppy Yorkie
Sitting in her thread crochet bed
Lillipie
The apple of my eye!
Christmas Yorkie
Yorkie in an embellished Glass Heart ornament
A Yorkie Birthday Pool Party
Happy Birthday Babies!
Sweet Little Yorkie Angel
Adopted and living in Texas
CHLOE 1 AND CHLOE 2
Chloe 1 is real and is my daughters dog, Chloe 2 is her clone!
Yorkie Wonderland
Adopted and living in Florida
Black-eyed-Susie Yorkie
Little Susie now lives in Florida
My Superstar Zoe
Adoped and living in New York
Easter Puppy Yorkie
Adopted and living in California